It's been a challenging few weeks and like many of our peers, we've had to think outside the box when it comes what happens next for our restaurant. After much deliberation, we're delighted to say that we're trialling a special Stay At Home version of our Supper Club menu so that you can enjoy a fine-dining experience in the comfort of your own home.
We know this long lockdown has been tough so we want to make it that bit easier. Treat yourself, your partner and your family to a fine-dining treat. We're bringing you some of your favourite dishes with some of the most amazing local produce Ireland has to offer. Just because you have to stay at home doesn't mean you can't dine out!
We'll do the hard work of preparing and pre-cooking your meal, you can collect your order from the restaurant, and in some limited cases, (for instance, if you're isolating and can't leave your home) we'll deliver it to your door. Our delivery area will be limited to Dublin 2, 4 and 6.
Some of the courses will be ready to eat straight away and some will require minor finishing touches at home. We'll include a full set of easy to follow instructions with your meal so you can be sure that everything tastes just like it should.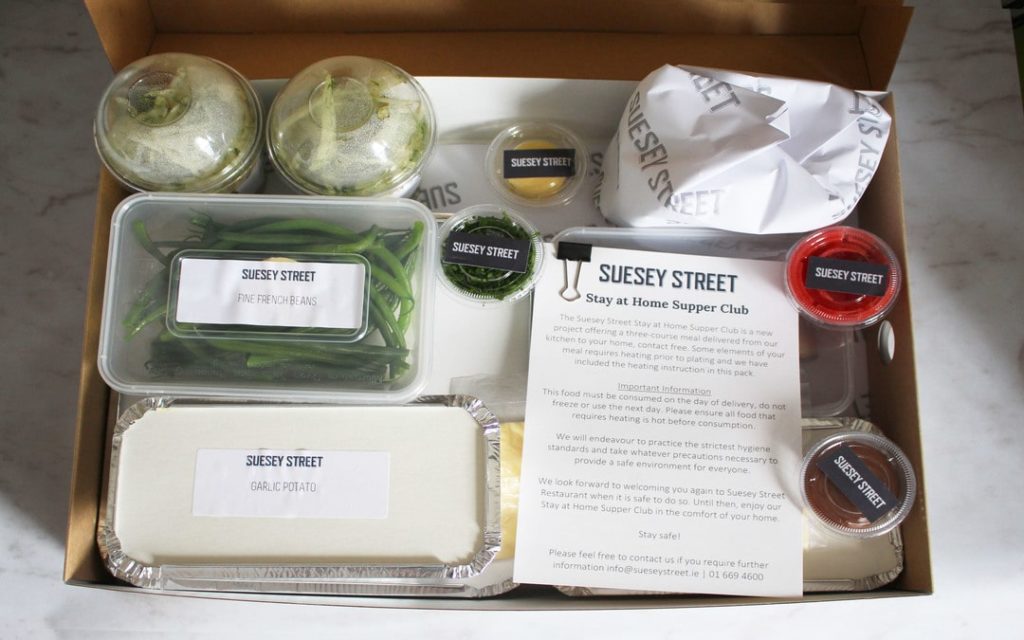 We're making some of our favourite bottles of wine, beers and cider available too so you can get the full Suesey Street experience at home.
How It Works
We'll share our 3-course Supper Club menu on our website and social media accounts on Mondays. The menu will change weekly but will remain at a fixed price of €30 per person.
Preorders will be available from Monday to Thursday for meals on Thursday, Friday and Saturday.
Preorders for Thursday must be made by 8pm on Wednesday.
Preorders for Friday must be made by 8pm on Thursday
Preorders for Saturday will close at 8pm on Friday.
Call us from 9-5 on 01 669 4600 or email info@sueseystreet.ie and one of our team will arrange delivery or collection, and contactless payment details.

We'll have pre-allocated times on Thursday, Friday and Saturday for you to make a contactless collection. You'll be given a time to collect your meal; just call us when you arrive outside and we'll come out and put your meal into the boot of your car.
As mentioned, we're also offering limited contactless home delivery*. All of our deliveries will be done by our management team ensuring the highest standards of service and social distancing are met.
*There will be a delivery charge of €5

This is a new venture for us so we're asking for your patience while we manage any teething problems. We really want your feedback on our Stay At Home Supper Club so if there's something you liked, something we could improve on, or something that you think we could change, please do send on your thoughts.
Stay At Home Supper Club Menu
Crab & Avocado Cocktail
White Crabmeat | Mayonnaise | Avocado |
Crisp Baby Gem | Granny Smith Apple
***
Slow Roasted Shoulder of Wicklow Lamb
Provençal Vegetables | Garlic Potato | Thyme Jus
***
Cacao Hazelnut Slice
Strawberry Sauce | Tuile | Chocolate Mousse
***
Selection of Homemade Breads and Butter, €5 supplement
***
WINE LIST
Champagne and Sparkling
Maschio dei Cavalieri Prosecco Frizzante
€19
Champagne De Castellane
€45
JM Gobillard Brut Rosé
€50
White Wine
Domaine Brichot
€15
Albarino Rula
€20
Walnut Block Sauvignon Blanc Marlborough New Zealand
€22
Sancerre Andre Dezat
€30
Chablis Vieilles Vignes Etienne Defaix
€35
Red Wine
The Vines Shiraz Cabernet Sauvignon Merlot
€15
Fantini Montepulciano D'Abruzzo
€20
Malbec Domaine Jean Bousquet
€22
Rioja conde Valdemar Reserva
€28
Chateauneuf Du Pape Domaine De La Charbonniere
€40
Rosé
Ambroisie D'Anjou
€25
Beers and Cider
Peroni
€4
Heineken
€4
Corona
€4
Bulmers
€4
We're excited to start our new culinary adventure and we really, really appreciate your support as we roll it out. Let's keep the fine dining experience alive at home until we can welcome you back into our dining room!

Thank You
Team Suesey Street
AS ALWAYS, KEEP TAKING CARE OF EACH OTHER AND DON'T FORGET TO FOLLOW US ON TWITTER, INSTAGRAM AND FACEBOOK FOR UPDATES.