The hospitality industry plays a significant role in the Irish economy employing more than 148,000 people and is worth over 3 billion euro. However, despite its importance, the industry has a track record for being associated with poor mental health with many workers suffering from issues like anxiety and depression. As an industry associated with long and irregular, unsociable working hours in a high-adrenaline environment, it's no wonder that the issue of mental health is taking its toll with many chefs, bar and floor staff suffering from burnout at some point in their careers.
A survey carried out by Unite Union last year reported that 51pc of London based chefs suffer from depression due to being overworked, and nearly a third (27pc) said they drink alcohol to see them through their shift. These statistics are worrying and workplace struggles must be brought forward and addressed in a constructive way.
Here at Suesey Street we decided to write a piece on the longstanding issue that is mental illness as it effects so many of us. We want to create an increased awareness of the issue and offer support to people going through tough times. We have put together some simple ways you can take care of staff in the lead up to, during and after the busy Christmas season.
Why the hospitality industry is tough
The hospitality industry can be a difficult environment to work in due to its competitive, fast paced nature. The emergence of social media platforms and reviews websites like TripAdvisor, Instagram and Twitter, while it has been beneficial for the industry, has also seen customers become more demanding. The direct result of this real-time reactive feedback now impacts a restaurant or bar's reputation faster than ever before. Yes, it's crucial to receive and action customer feedback however staff members can often feel like they are not good enough or worthless when reflecting on disheartening reviews and unfair or negative comments. When motivating kitchen teams, head chefs and managers should also remember that the food shouldn't matter more than the people creating it.

Saying a simple "Thank you" now and then can help create a nurturing environment while also encouraging respect among peers.
How we can promote wellness and positive mental health
Eat Together
Teams that offer complimentary meals before their shift starts or sit together and have a quick catch up are proven to be more productive than those that expect their staff to "just show up" without any form of team interaction. It is important to take the time to keep your keep your team nourished, positive and energised for the workday ahead, even during extremely busy times. It is also a great opportunity to chat as a team and see how people are doing. Ask employees how they are and if they have everything they need to do their job efficiently. A simple conversation can change a person's attitude, allowing them to feel supported and ultimately providing a positive dining experience for your customers.
Say Thank You
Let your staff know that you appreciate them and that you're grateful for how much they are working to keep the show on the road during many restaurants' busiest and most financially profitable time of the year. Remember that without your employees, your restaurant would not run. Saying a simple "Thank you" now and then can help to create a nurturing environment, while also encouraging respect amongst peers. If you carry this out each day you will be able to maintain a positive atmosphere and it will help retain staff members who, hopefully, enjoy coming to work.
Help your employees reach goals and build a career if that's what they want to do. Allow them the opportunity to progress in a role. This will improve service, and help motivate them to be more ambitious. You can also provide them with a progress report to keep them updated on how well they are doing and offer to help them along the way. Setting goals will give your kitchen, floor and bar staff alike positive encouragement and empower them to see themselves as an integral part of the business.
Build Relationships
Good work relationships are important for both productivity and a person's wellbeing. We urge the importance of Maître d's and front of house employees building relationships with customers, and it should be no different with the team. When you bump into your employees during the day or at the end of a shift, don't forget to ask them how they are. Asking specific questions like "How was your son's football game last night?" or "How are you feeling today?" will show that you care and respect them. Being more involved in your team's lives will make sure you are approachable and considerate. If they need advice or they are feeling stress, they might be more inclined to come to you.

Changes that need to be implemented
Always encourage your staff to take their breaks, even if it's an extremely busy time. While many restaurants and bars need "all hands on deck" during the festive season, it is important that staff take their days off as they need it to avoid burnout and longer lasting effects like depression or anxiety. Your staff cannot be friendly and helpful to a customer if they are working with an untreated mental health illness. Just like a physical illness, a person needs to rest and recuperate in order to get back on their feet and be ready to take on new challenges.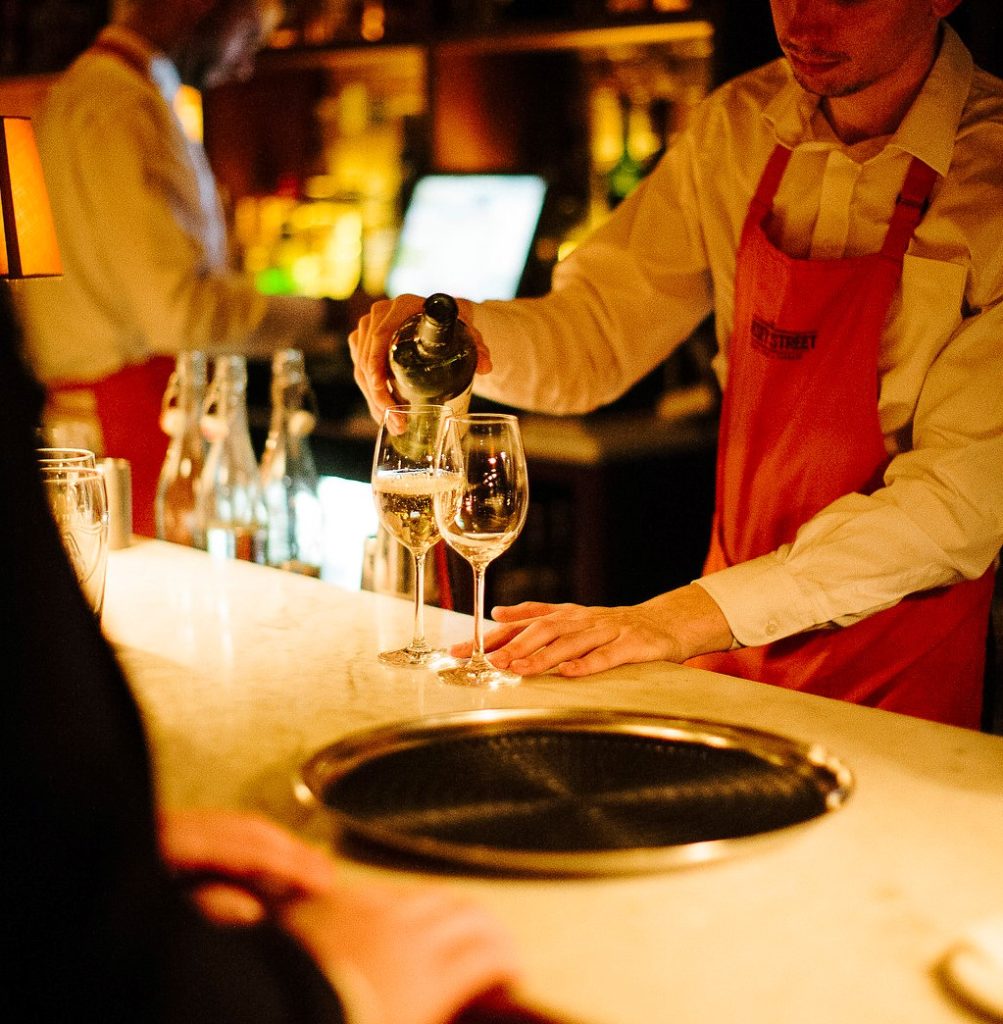 Promote a more open culture by acknowledging the issue that mental health is very real, and ensure that your team know the restaurant is aware and supports mental health. Make sure services and resources are accessible to all members of staff. Invite a wellness coach in for an hour or two between service and open a conversation on the topic. Send informative, helpful email materials to staff so they know you are aware of issues that can arise. If you see someone struggling ask them if they are okay or need anything. The hospitality industry is a tough one and we must look out for one another.
"Our staff are the engine room of our restaurant here at Suesey Street and if they are not healthy and working to the best of their ability then it will impact service. Christmas is one of the busiest times of the year in the hospitality industry and it is important to check in on your team to see how they are doing; Mental health affects us all at some point and the hospitality industry is no exception. We must become more open about issues like depression and anxiety, so we can support each other and move forward."


Suesey Street General Manager, John Healy
The sudden and shocking death of American Chef Anthony Bourdain this Summer showed the world that no one is exempt from the illness. It opened the food worlds eyes to these issues and has encouraged a new generation of hospitality workers to be more pro-active about the problems they face at work and to rebel against the quite often toxic and unacceptable culture that seems to be common in today's industry.
This year's Food on the Edge symposium took the lead on promoting positive mental health by dedicating the event to Bourdain.
"Although the overall theme of Food on The Edge, is always the future of food, this year we're introducing a new theme, which is 'Conversations'. I think it's very good to sometimes talk through some of the issues and the problems, whether they are mental health, food waste, or education on the chef's side"

Michelin Star Chef, JP McMahon
People working in the hospitality industry shouldn't be expected to hold a higher standard of mental strength compared to the rest of the workforce considering their working environment can be quite tough and often without much financial gain. People following a career in hospitality must stand together to encourage and empower one another to be open. They must accept that mental health is a real thing and does not show weakness. It's okay to not be okay sometimes but talking about it does help. We must address this issue in the hospitality industry and remove the stigma that still surrounds it before it causes further damage to lives.
Follow Suesey Street on Twitter, Instagram and Facebook for regular updates.