We've shared lots of recipes this year, but we've been saving one of our favourites until now, Chef Denis's Ratatouille. If you love getting as many vegetables into one dish as possible then this is the meal for you. The sauce is packed full of flavour and if you follow the recipe below, you'll have enough to make more than one ratatouille. You could even save the sauce and use it on its own as a handy pasta sauce!
Making everything from scratch is a little time consuming but trust us, good things come to those who wait. There's a lot of vegetable prep involved in this dish so it pays to have a good knife or mandoline slicer handy. If you're like us you'll enjoy the repetition and precision of all of that slicing too.
We hope you enjoy our ratatouille recipe, let us know how you get on if you try it!
Ratatouille Sauce Ingredients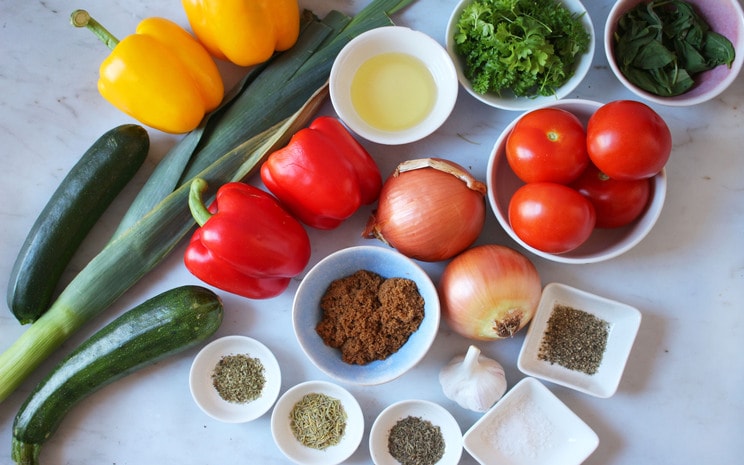 Tomato Sauce Ingredients
2 Courgettes
2 Yellow peppers
2 Red Peppers
2 Onions (sweet white onion if you have them but regular brown onions will work too)
1 Leek (optional)
20g Parsley
20g Rocket (optional)
20g Basil
1g d=Dry Oregano optional)
1g Dry/ Fresh Rosemary
1g Dry / Fresh Thyme
25g Garlic
50g Olive Oil
Salt / black pepper to taste
Brown sugar 50g (best to use muscovado brown sugar if you can)
Making the Sauce for the Base of Your Ratatouille
You can use any tinned tomatoes when you make this but if you're at the time of year when the first tomatoes come into season, we recommend using fresh ones. The best ones to choose are plum sweet tomatoes.
To make the sauce with fresh tomatoes, bring a pot of water to a vigorous boil. Prepare a large pot of ice water and set it on the counter nearby.
Score the bottom of each tomato with an X, you're aiming to pierce just the skin, so don't cut too deeply.
Drop each tomato into the boiling water for about 45 seconds and then transfer immediately to the ice water to halt cooking. NOTE: Blanching time may vary a little depending on tomato size. Look for the skin splitting along the length of the tomato, then remove it, this will make peeling easier. When it's done right the skin of the tomato will start to curl.
Remove the tomatoes from their ice bath, and peel and discard the skins. Use a knife to slice tomatoes into evenly shaped pieces.
If you are using tinned tomatoes, you can skip this step.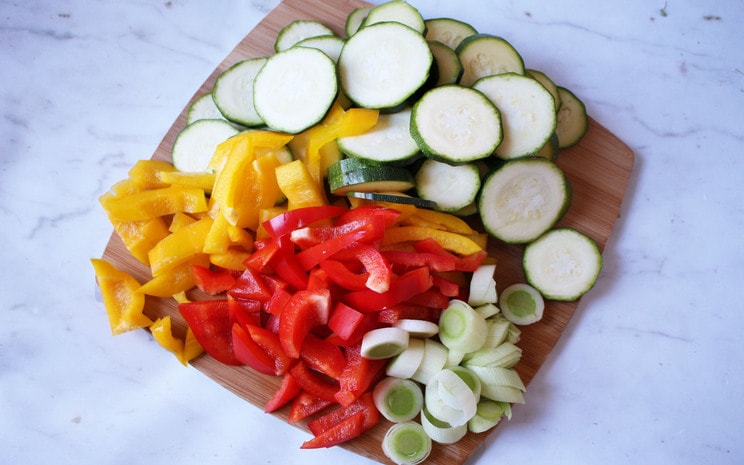 Add olive oil to a medium-sized pot and warm over medium heat. Lightly fry garlic until translucent.
Add onions; bell peppers; and reserved tomato, courgette, cook slowly while stirring.
Reduce heat to medium-low and place the lid on top of the pot to lightly steam the contents until soft.
Remove the lid and continue cooking until onions appear jammy. (For a brighter flavour, make sure you don't let the bottoms brown.)
Remove from heat. Transfer the mixture to a blender if you have one or you can use a hand blender if that's what you have in your kitchen.
Add salt, pepper, olive oil, thyme, rosemary, and other fresh herbs.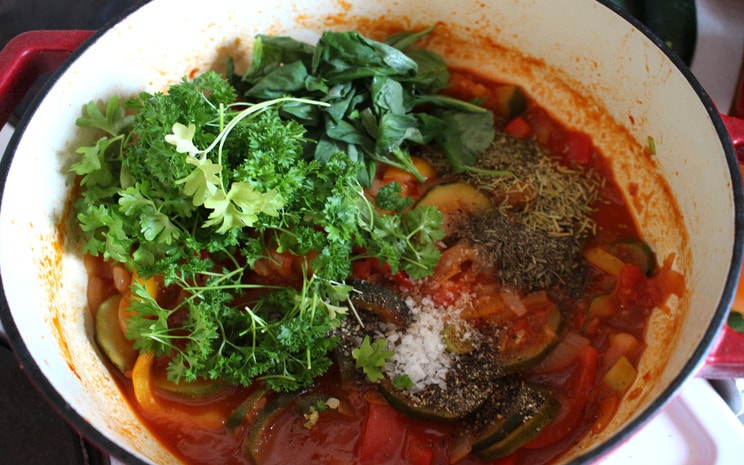 Blend on high until puréed and set aside.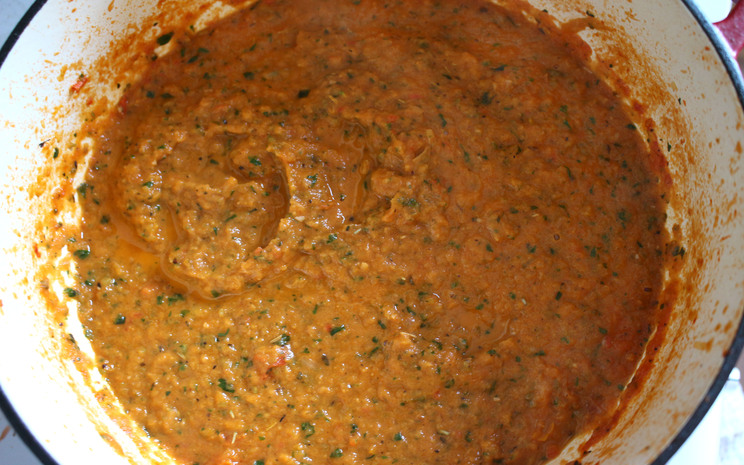 Now we need to prepare our vegetables to build up Ratatouille itself
Ingredients for Ratatouille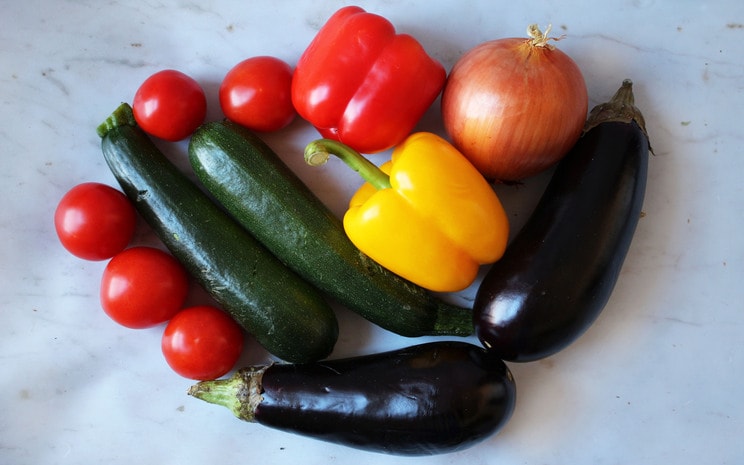 300g of all of the following vegetables
Regular onion
Tomatoes
Yellow / green / red / bell peppers
Courgette green /yellow (optional – half & half)
White onion
Aubergine
Slice all vegetables, preferably with mandolin or slicer to keep the slices even but if you don't have either just try to slice vegetables as thinly as possible with your kitchen knife.
To build it up, pour the sauce evenly into a round casserole dish and spread it around. Don't be too heavy handed here, if you use too much sauce it will seep through and ruin your perfectly shingled top layer. Imagine you are saucing a pizza base, then stop when your pizza looks properly sauced.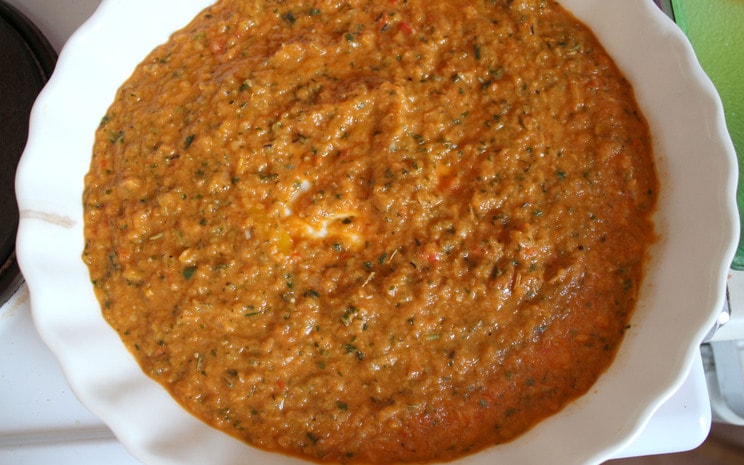 Keep any extra sauce for another recipe, you can store it for a few days in the fridge or freeze it if you won't need it straight away. It makes a great pasta sauce if you need something packed with vegetables that's quick and easy.
Now begin arranging your perfect vegetable slices in a pattern on top of the sauce. For example, start with yellow courgette, then add the green courgette, then aubergine, then tomato, and repeat. The top edges of your slices should all be at about the same height. Once you have a stack of slices, arrange them in a tight row along the outside of the casserole dish, and continue working inward, ring by ring, until the pan is full. Be sure not to press veggies too deeply into your sauce, that can get messy.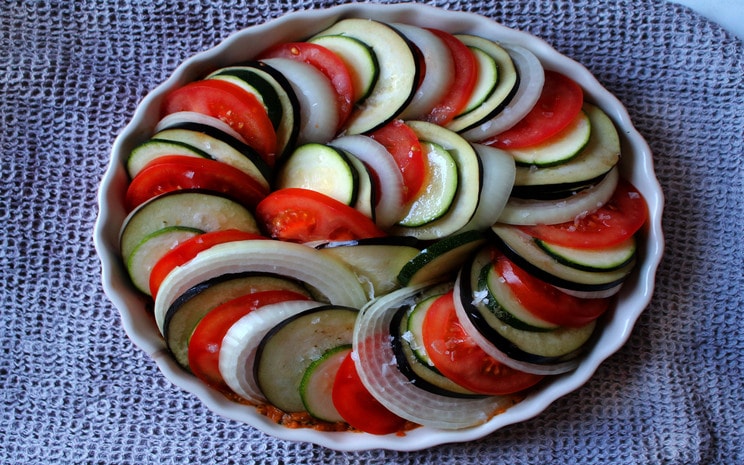 To bake: preheat your oven to 170 c
Sprinkle ratatouille generously with salt, and season with more olive oil and fresh herbs if desired. Place the lid on top, if your dish doesn't have one you can use a piece of parchment paper cut to fit the shape of your dish and put that on top instead.
Transfer it to the oven and cook for about 90 minutes. Check every now and then to make sure the liquid is reducing. If your ratatouille starts to look too much like a stew, remove the lid or cartouche and continue cooking uncovered.
Remember to check your dish every 10 to 15 min. Once it's fully cooked let it cool for a few minutes before serving.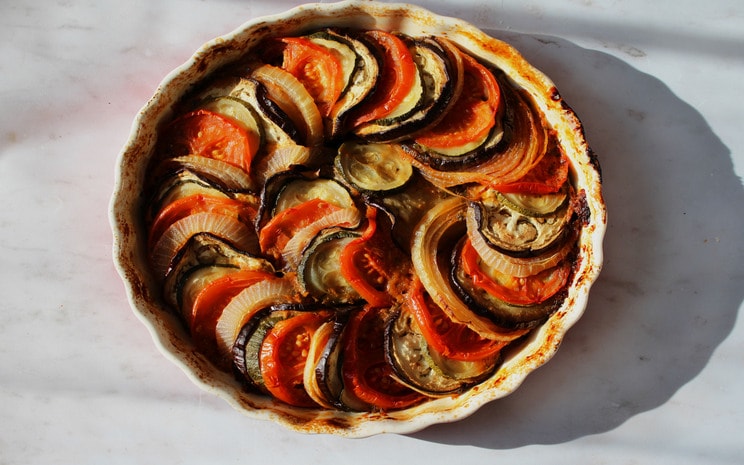 To serve on the plate use a serving ring, if you don't have one you can improvise with what's in your kitchen, a round scone cutter can double up as a serving ring if it's large enough.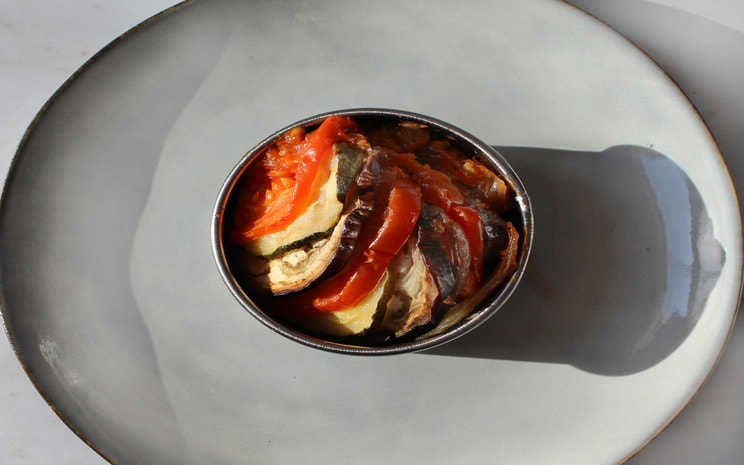 This ratatouille is packed with nutritious vegetables and you'll have some bonus sauce too if you follow the quantities we listed, so you're really getting two meals for one when you try this recipe.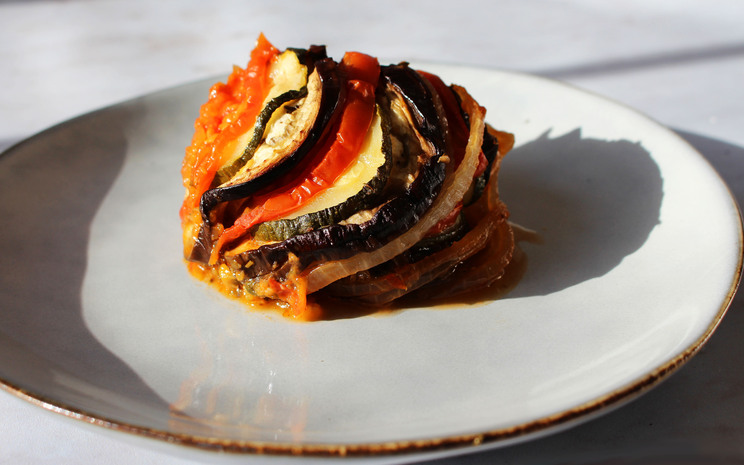 We hope you give it a go and enjoy it as much as we do!
If you don't feel like cooking, why not check out our menu page and make a reservation with us in the restaurant instead?
AS ALWAYS, KEEP TAKING CARE OF EACH OTHER AND DON'T FORGET TO FOLLOW US ON TWITTER, INSTAGRAM AND FACEBOOK FOR UPDATES.